About

Us

K.C. Engineering was started by Kenneth Joseph Cresci of San Francisco. We have been in business since 1976, and will soon be celebrating our THIRTY-NINTH ANNIVERSARY!!! We are in fact SAN FRANCISCO'S OLDEST SINGULARLY OWNED MOTORCYCLE SHOP.

In the beginning, our focus was drag racing and drag racing engines, thus the name, "KC Engineering". With the help of Ken's father, August Cresci (Gus), Ken opened up at their first location, located in a garage in the Sunset District of San Francisco. In those days we worked on engines only, not whole motorcycles. We always had engines on all three of our engines stands. In 1980, we moved to a new location at 12th Avenue and Geary Boulevard (an old service station). Always in San Francisco, we would stay at that location till 1986. Gus remained an integral part of K.C. Engineering until he succumbed to cancer in 1999 (He was and is sorely missed!).

Sometime in the early 1980s, we realized that the high-performance motor work that our company was founded on, was no longer the good business it was before.

Ken hired his old friend, Ed Hooke, back in 1983. They looked around at the inside of an old service station filled with lathes, valve grinding equipment and hydraulic presses. They knew the time was near when engine/ machine work alone would not support them. The inside of that old sheet metal building was filled with two tiers of tire racks all the way around the inside. So Ken, and his manager Ed, filled the building with tires, all the way to the rafters! It was a great idea on Eddie's part, and Ed remained Ken's loyal friend and manager until his death in 1998.

In 1986 K.C. Engineering moved to our present location at 689 Harrison Street near the corner of Third Street. Our inventory has since grown from 200 to over 2000 tires! In changing over to a tire based business, it became obvious that we couldn't stock just tires. We began investing in a very large inventory, including brake pads, shoes, and rotors. The tire business brought the customers in, but once they got there, they had questions about other types of work, and other parts that they might be able to purchase.

Through time and experience we began to stock (and still do!) the largest inventory of batteries, brakes, shock absorbers, chains and sprockets, electrical devices of every kind in the Bay Area. Whenever a customer called for a part we didn't have, a member of our staff would order it, and make sure that part was never again out of stock. As a result our shop now has a very large inventory of clutch, brake, throttle and choke cables, as well as levers of every type and size, etc.

We then began to purchase and create equipment and machines that would allow us to repair, weld, braise, spot weld, press and straighten mag wheels as well as handlebars, some frames- you name it! When customers came here for tires, they knew then (and still know today) that whatever they need, K.C. Engineering can do it, usually while the bike is still on the lift!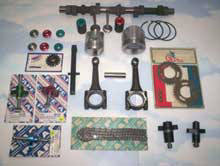 These are just some of the high performance engine components that we stock!
Nowadays when people ask; what does K.C. Engineering do? A better question would be what doesn't K.C. Engineering do?
Welcome To K.C. Engineering
Kenneth Joseph Cresci Owner
Stephanie Cresci Parts Department/General Manager
David Wong Head Mechanic
Daniel Martines Mechanic Intern
We are known as the "do-everything" shop. We do all types of cutting, grinding and drill lightning operations, we perform wheel truing and straightening, both spoke and mag wheel. That's right! Mag wheel straightening, right here in San Francisco!
Most larger jobs are done on an appointment basis, usually in one day!
All our shop service/repairs come with a two-month warranty. We stand behind our work and always will!
---